The European Union (EU) is planning to introduce several new laws in 2023 to adress various issues, including climate change, digital transformation and economic recovery. Therefore, we would like to provide you with an overview of the most important legislative initiatives of the EU, that will have an impact on a variety of businesses. The EU's goal to become climate-neutral by 2050 is a major undertaking, that is set to be further advanced this year and affects many different policy areas, such as supply chains and the operations of companies themselves. The digital transformation is also set to be further regulated with regard to data security and limiting the dominance of some companies in this sector. The EU is also attempting to mitigate the economic impact of the Covid-19 pandemic, as well as the war of aggression against Ukraine, through several economic programs. With the Recovery and Resilience Facility Program (RRF) and InvestEU, we can expect further specifications and elaborations of these programs this year.
These laws are part oft he EU's long-term strategy to create a more sustainable, resilient and competetive Europe.
1. Digital Transformation
One of the key areas of focus for the EU Comission in 2023 is digital transformation. These laws are aimed at regulating digital markets, promoting innovation and preventing monopolies. In 2022 the EU passed the Digital Markets Act (DMA) and the Digital Services Act (DSA). These two new laws aim to regulate digital markets and try to prevent the abuse of dominant market positions by large tech companies. Also it aims to modernize the EU's legal framwork for digital services. It will set new obligations for online platforms, such as transparency and accountability. The responsibility of the hosted content on platforms will be increased. The DMA and DSA will be applied by the member states by 2023.
2. Supply Chains
Another key piece of legislation set to be introduced in 2023 is the Due Diligence Directive. This proposed directive will require companies to conduct due diligence throughout their supply chain to identify and prevent human rights violations, environmental harm, and other adverse impacts. The directive will apply to all companies operating in the EU, regardless of their size or sector.
3. Climate Change
The EU aims to achieve climate neutrality by 2050, and in order to achieve this goal, the Commission will propose several new laws. These include a carbon border adjustment mechanism, which will impose a tariff on imports of goods from countries with weaker climate policies. The Commission will also propose new regulations to reduce the carbon footprint of buildings, promote sustainable transport, and increase the use of renewable energy.
One of the most significant pieces of legislation set to be introduced in 2023 is the Sustainable Corporate Governance Initiative (SCGI). This proposed regulation will require large companies to have a sustainability strategy in place, and to report on their environmental and social impact. It will also introduce due diligence requirements for companies to identify, prevent, and mitigate adverse impacts on human rights, the environment, and good governance throughout their supply chain.
The Fit-for-55 package includes a range of policies and regulations covering various sectors of the economy, such as energy, transport, buildings, and agriculture. These measures aim to support the transition to a more sustainable and low-carbon economy, while also creating jobs and promoting innovation. The EU is determined to lead the way in the fight against climate change, and the adoption of the Fit-for-55 package in 2023 will be a critical milestone in this journey. By working together, the EU can build a more sustainable and resilient future for all its citizens, while also setting an example for the rest of the world to follow.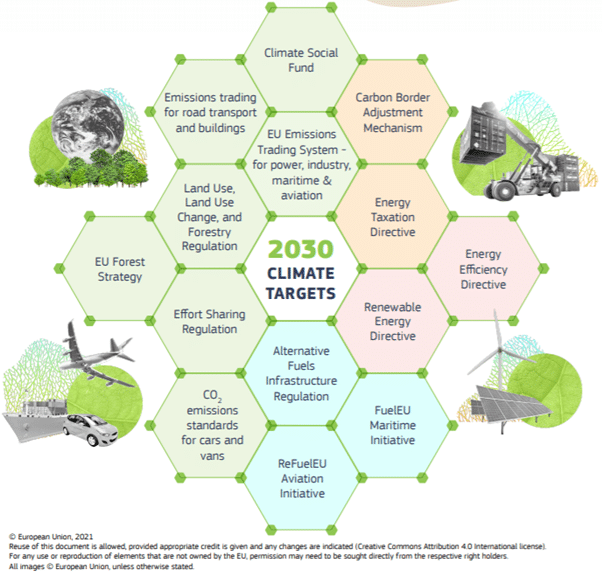 4. Economic Recovery
The EU Commission will continue its efforts to promote economic recovery in 2023. The Commission will propose several new laws to support small and medium-sized enterprises (SMEs), encourage investment, and boost job creation. These laws will aim to create a more competitive and innovative European economy, which is better able to compete in the global marketplace.
The EU has an extensive agenda for 2023 in all policy areas. With PANALIS Monitoring and our briefings on various current legislative processes, you can easily stay up-to-date on the areas relevant to you, effectively and resource-efficiently.
Learn more about PANALIS. You can schedule your appointment here.
Learn about the advantages of PANALIS